Welcome to Astor Crowne Plaza - New Orleans French Quarter Event Calendar - A Louisiana Hotel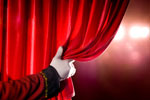 This event hosts the widest variety of classic German beers this side of the Atlantic. German "oom pah pah" brass bands set the beats for traditional folk dances that often involve knee-slapping, twisting and call-and-response. The "Chicken Dance" reigns as the most popular of these dances, along with polkas, waltzes and others.
And, if you have strong arms, you can participate in the Masskrugstemmen beer stein holding contest, held every day of the festival at 6:30, 7:30 and 9:30 p.m. For those who prefer less strenuous activity you can watch the Wiener Dog (dachshund) races.
Among the authentic German foods being offered are:
Sauerbraten (braised marinated roast beef)
Krautwickel (ground beef stuffing rolled in cabbage)
Kasseler Rippchen (smoked pork shank braised in a citrus sauce)
Sauerkraut (pickled cabbage)
Kartoffelbrei (creamed potatoes)
Bratwurst sausage
Giant Bavarian pretzels
German wines and liquors (including many varieties of schnapps)
And more than 20 German premium brand beers to wash it all down!
So, plan on coming out for at least one weekend of the New Orleans area's most authentic celebration of Oktoberfest. There's something for everyone at this family-friendly event.
For more details and updates on Oktoberfest in New Orleans, call (504) 522-8014, email info@deutscheshaus.org or visit www.deutscheshaus.org.
Details
Start:
October 05, 2015
End:
October 22, 2015
Where:
Deutsches Haus 1023 Ridgewood Drive
Metairie,
LA
70001
US
Phone:
Event Type:
Arts & Theater
Ticket Price: