Welcome to Astor Crowne Plaza - New Orleans French Quarter Event Calendar - A Louisiana Hotel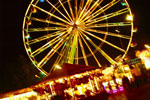 The Kern family has been creating Mardi Gras magic since 1947, and Brian is used to carnival innovations. Since taking the reigns of the exciting New Orleans Halloween parade, the Krewe of BOO!, Brian Kern has come up with an innovative solution to the same-old-beads waste problem: Locally-made throws that won't just be tons of trash to have to clean up after the parade passes by! New Orleans-made food items and local collectible objects parade goers will want to consume or keep as mementos of the exciting new celebration.
Our 2015 parade throws include these exciting items:
Eco Friendly cups from Giacona Container Company (Louisiana made)
Candy made in the USA
Pralinettes from Aunt Sally's (Made in New Orleans)
PJs Coffee Frac Packs (Made in New Orleans)
Collectible Light-up Medallion Beads (Imported)
Chee Wees from Elmer's Fine Foods (Made in New Orleans)
Candy Corn Necklaces (hand made in New Orleans)
Voodoo Doll pins (hand made in New Orleans)
Voodoo Doll magnets (hand made in New Orleans)
Mixed Children's Toys Grab Bag from Arc of Greater New Orleans includes stuffed animals, frisbees, cozies, toys and games
Doubloons redeemable for consumables at local eateries
This innovation replaces a throws custom that is overdone with a new tradition that is more in keeping with all things New Orleans and practical. Collectible and consumable throws that are highly desired by Halloween parade goers - and better for the environment!
Details
Start:
October 24, 2015
End:
October 26, 2015
Event Type:
Festivals & Fairs
Ticket Price: